New section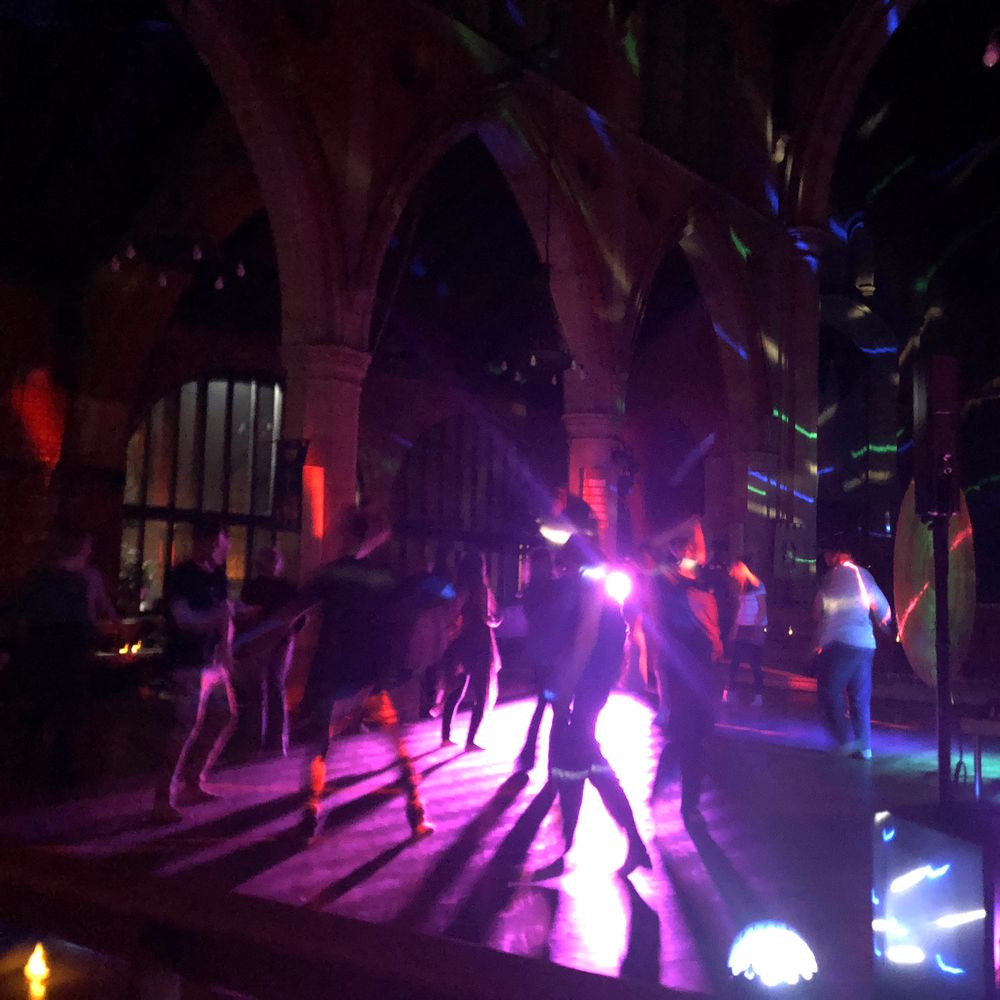 Ecstatic Dance DJ
For 20 years, JB has been rocking dance floors around the globe including headling Glastonbury Festival.
Now he is passionate about Ecstatic Dance DJing and community.
Dancing barefoot to a wave of music from gentle tunes that open the heart through funk and hip hop fusions into the peak intensity of world tribal tech-house; this is the signature Ecstatic sound of Marc JB.
Marc has been pioneering the Ecstatic sound in London with Joytribe - Conscious Clubbing At St Catherine's, a beautiful conscious dance in a stunning space.
CONSCIOUS CLUBBING AT ST CATHERINE'S
Join the mailing list for updates on forthcoming events xxx
Doors open 8pm - doors shut 8.30pm - dancing and soundbath till 10.45pm, enough time to get the tube back home!
Come to the main entrance of St Catherine's Church, Pepys Road, London SE14 5SG, located at the top of Telegraph Hill. Bring a bottle of water which can be refilled at the venue.
Just dancing barefoot - express yourself without judgement
World beats - electro disco - lofi - deep and tribal house - music for the heart - followed by mindfulness sound bath
Conscious dancing is a worldwide phenomenon. A safe space is created where you can lose yourself in the music and experiment moving your body in new ways. This is movement medicine to boost your sense of wellbeing and bring you back to your body. You are free to move how you like, just stand still and sway, rave in a frenzy, pull out your best dance moves or float about, its your time to express your present moment in life through movement.
Conscious Clubbing at St Catherine's guidelines
-No alcohol and no drugs please.
-Dancing barefoot. There is a carpeted area at the top of the church. If you have a medical condition that means you can't dance bare foot, use what you need to feel comfortable, this is an inclusive space. Feel free to bring a yoga mat (please make sure no-one trips over your mat!) or if absolutely necessary, bring some clean indoor trainers with you.
-No talking or phones on the dance floor. This creates a focus on the dancing and a great atmosphere for all.
-No spectating, please respect other people's space and don't stand there staring at your fellow dancers. This creates a safe environment where we can give ourselves permission to move our bodies in new ways.
-If you would like to dance with someone, you are welcome. If you would rather not dance with someone, thank them by putting your hands together at the heart in a prayer posture and smile!
-This is an adults only space so 18+
Doors will be open at 7.45, we will shut the doors at 8.30pm so please be on time. If you are late, sorry but we can't let you in. This is to create a safe environment where we can let go of our constructs and explore new ways of being.
You can use the side space in the church to take off your shoes and get changed, there is a toilet in the main church for changing too. This is located at the front right off the green carpet. 
Please switch your phone off when you come in, give yourself a break from the outside world!
The heating will have been on for several hours so bring layers to take off as you heat up. If you want to dress up and bring some smiles to your fellow dancers, go for it! Dress to sweat.
There will be gentle music on when you arrive, this is a good time to explore the space, feel free to lie down and breathe deep into your belly. Let the outside drama go and allow a feeling of space to come into your body. Starting off from a still place works really well in conscious dance. The music energy will go up on an arc to peak dancing and then will come back down again. When you feel like it, you can lie back down on the floor when the music has become calm. We will then start a sound bath and mindfulness meditation.
A sound bath is a muscial experience where soothing sounds like gong, chimes and binaural beats are used to calm the brain down to a deep state of relaxation.
There are some free tickets available for over 70s, bring your Gran/Grandad!! If you would like one of these, there are limited tickets so be quick and book through eventbrite, when they are gone, they are gone!
Conscious Clubbing at St Catherine's is an inclusive space, if you would like to ask about access or any special requirements you may have, please send me a message through eventbrite.
We are looking forward to welcoming you to St Catherine's, see you there!  
Marc JB x
artwork by www.drawnbyhand.org